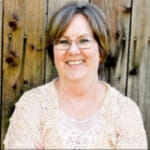 Cheryl Hoag
Past President
Hi, I'm Cheryl Hoag. I have worked for CalTel since 1987 & currently live in Angels Camp.  I am passionate about people, therefore, much of my career was spent in Customer Service and currently is in Community Outreach and Marketing.  I completed my Marketing Certificate through the UC Berkeley Extension Program in 2013.
Customer Service and outreach keep me connected to what fills my soul: helping people & organizations to reach their goals.
Outside the office, I enjoy spending time gardening, listening to audio books and spending time with family & friends, especially my grandchildren.