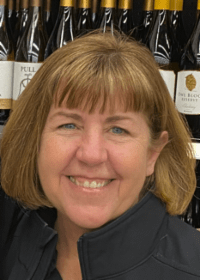 Jamie Brandt
Director
Jamie and her husband, Joel, became the owners/operators of Grocery Outlet in July of 2019 and opened for business in November. As recent empty nesters, they were looking for a new challenge in their lives. Mission accomplished!
Opening a grocery store just prior to a pandemic has been a journey they will never forget. It has been both challenging and rewarding at the same time. Despite the demands, they have remained steadfastly grateful to have a viable business and the opportunity to provide jobs and quality groceries at a discounted price. The community has been incredibly supportive. The last two years have forced them to grow in ways they never expected and provided unique opportunities to give back.
Jamie's professional background is a bit eclectic. She always had a passion for business and giving back. Prior to Grocery Outlet, she was an Office Manager for a high-performance tennis academy in Granite Bay. While there, she worked with Dmitry Tursunov to create the Equal Chance Foundation to help bring tennis to low-income communities in the Sacramento area. Prior to that she spent 15 years as an environmental law paralegal in Sacramento.
Her most important job has always been as Mom to their three children Joey, Jake, and Jess. They raised their kids in Folsom where Jamie spent her time running between baseball, tennis, soccer, and piano lessons. Her first grandchild, Violet, was born in January of 2020.